Suede Reva Ballet Flat
The iconic Reva Ballet Flat, known for its timeless design and perfect fit, comes in multiple shades of soft suede for fall. Our signature shoe, named after Tory's mother, Reva, is the epitome of effortless chic.
Meet Reva, Tory's stylish mother and the inspiration behind the shoe.

Free standard shipping within the U.S. on the Reva Ballet flat collection.
Style Number: 32128003
Suede upper.
Leather lining.
Padded insole.
Tonal logo.
Elastic back.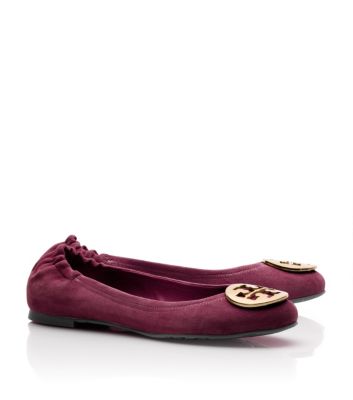 Suede Reva Ballet Flat 3 3
Very stylish! I really wanted the navy flats, but they didn't have them in my size, so I went ahead and ordered the plum color...I'm so glad I did! These have become my favorite flats and they look great with so many things. Here's what you need to know: *Order a half-size up from what you're used to wearing...I'm a size 7, but with Tory flats, I always go with a 7.5 and it is a perfect fit. *There's no real arch support, so you might want to add an arch insert if you need one. I did and it helped tremendously. *These look great with jeans, skirts, capris, and skinny jeans/pants (they look really great with jeans!) *They are gathered in the back and that keeps them from slipping off...a real plus since most other brands of flats I own seem to slide on and off. *Buy some suede protectant because they will scuff. *They break in very well...happy shopping! March 3, 2013
Amazing! This is my first pair of Tory's and I adore them. Per a friends suggestion, I ordered a half size up because I was told they run tight and could cause bad blistering. She was right. If I would have ordered a 6.5 instead of my 7, I would not be able to wear them without some pain in the toes and around the heel. November 17, 2012
Great shoe! I had suede revas in black from a couple seasons ago and they have always been my most comfortable pair. I have been waiting for a neutral color to come out in suede and it is finally here! True to size; color is great and will go with anything; and really comfortable!! Great purchase/product!! September 20, 2012