EDDIE BALLET FLAT
Easy, chic and versatile, the Eddie Ballet Flat is Tory's favorite new shoe. Dress it up or dress it down, the leg-elongating wardrobe staple adds easy polish to dresses, pants or jeans. Great for work or weekend, it's also the ideal travel shoe thanks to a comfortable slipper-like fit.
For a limited time, TORYBURCH.COM is offering free standard shipping on Eddie Ballet Flats.
Style Number: 50008654
Leather and elastic upper.
Leather sole.
Stamped logo treatment at back.
We recommend going up 1/2 a size.
We recommend spraying leather shoes with a treatment like Meltonian before wearing.
Remove salt stains during the winter by dabbing a solution of equal parts white vinegar. Wipe clean with a water-soaked rag and air dry away from any heat source.
Remove scuff marks by dipping a clean cloth into water and then baking soda. Gently rub the spot. Dab clean with a water-soaked rag and buff dry.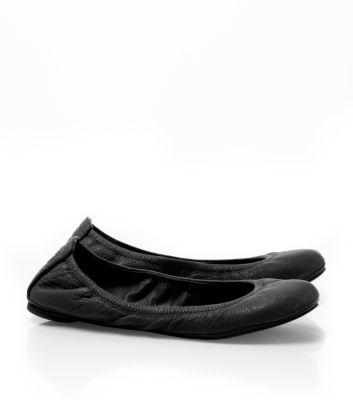 EDDIE BALLET FLAT 5 5
Most comfortable flats ever! I have these in a soft pink colour and they are seriously the most comfortable flats/shoes I have ever owned! They are like wearing slippers! But with a decent sole so you don't feel the ground you walk on. They have worn a little bit around the edges a bit quicker than ideal but I think thats to be expected with such soft leather. I also have these in a patent leather and they haven't worn hardly at all so I think its just the soft leather and not the design itself. Can't recommend these enough if you want comfy shoes. These have redefined my standard of comfort when it comes to cute shoes. April 30, 2013
Most loved I would agree with the other reviews, that these shoes did wear out before their time. HOWEVER, I hardly ever wear shoes enough for them to wear out, and this pair is so comfortable I am still wearing them, even though they are quite scuffed up. I will definitely be ordering another pair. February 20, 2013
Beyond wear and tear... I could not agree more with the other reviewers. I purchased these flats in August of last year and they were worn on the outside edges within 6 months (and that is being generous). They are absolutely comfortable, so I'm considering a new pair, but hesitate. They deteriorate so quickly so don't seem worth the money. I looked inside mine a few minutes ago, to see what size they are, and noticed that the inside edges are worn as well. It is extremely disappointing. Any suggestions, Tory? I gave an average, rather than fair, rating only because they are comfortable. December 12, 2012
Wears out easily I will start by saying that I ABSOLUTELY love this shoe but have to agree with the other reviewer when they say they wear out pretty quickly. I had my shoes for about a year and noticed a small hole in seam. I contacted the company to see if there was anything that could be done and was told that it was normal wear and tear. While I understand this rationale, I don't agree that a pair of $170 flats should get a hole in less than a year. November 26, 2012
Wear out quickly Okay, I NEVER write reviews for products online, however; I am so disappointed with this shoes I really feel I must. I am a huge fan of ballet flats, and of Tory's original flats, so when I decided to purchase the Eddie's I expected good quality and comfort. However, I have owned these shoes for less than a year, and I don't wear them frequently, maybe 3 days a month, and the leather is totally worn and coming off the soles. Also, because of the little round "heel" on the bottom, the shoes made my feet very sore if I ever wore them for more than 4 hours. Overall, these shoes are really cute, but a disappointment. October 24, 2012